Mt. Rainier 2001-06-18 - 20

Monday Jeff Boyd, Tysen White, Kirk White, and I left Tacoma around 5 pm and headed to Paradise. We started hiking with our 55 - 65 lb backpacks up the trail at 7 pm. We decided to camp below Camp Muir the first night, which we did. We hiked for four hour and made camp at 11 pm. Our view from our first night was great. We could see Mt. Adams, Helens, and Rainier. Tuesday we woke at 9am cooked breakfast, packed our belongings and began hiking again at 11 am.

We reached Camp Muir at 1:45 in the afternoon. We took a break at Muir for about an hour then we all put our crampons and harness' on and roped up just before we headed toward Ingraham Flats to camp for the evening. Once again we carried our heavy packs for a few more hours in the snow until we couldn't any more.

We reached Ingraham Flats at 5 pm, made dinner then went to bed at 6:30 pm. Six hours later at 12:30 am, we woke and prepared for the climb leaving Ingraham Flats at 1:45 am. Our planned summit time was 8:00 am. Two teams were ahead of us at this point that we passed along the summit route. We watched the sun rise at 5 am. One hour later 6 am, we reached the crater.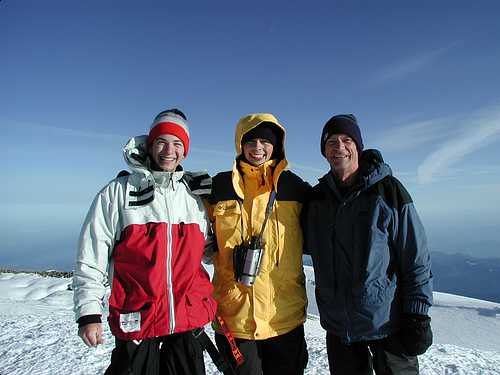 I was amazed we had made such good time. We were the first to summit Wednesday from the Disappointment Cleaver route. After reached the crater there is another 30 minute hike to reach the guest book and the true summit at 14,410 ft. Jeff was a little sick and almost didn't go the last 100 ft to reach the top. The weather was great, almost no clouds allowing us to see far. We could see the Puget Sound and surrounding cities. After 20 minutes of taking pictures and looking at the awesome sight in the 15° freezing cold, we headed back down to the other side of the crater. Before descending, we took a quick peak in the caves under the crater. We didn't go much further than 30 feet or so but it was cool to check it out.

The hike down was, for me, very trying. I felt like I was gonna pass out. I had almost no energy and the hot sun was only making it worse. We arrived back at our campsite 2 hours later. We all slept for an hour then packed our stuff and headed back down toward Camp Muir. After taking a short break there, we continued to decent Mt. Rainier. This was very trying since every step we had snow up to our knees. We all reached Paradise by 4 pm. We threw our packs in the car and headed for home. And definitely a stop at the nearest Burger King.