3 & 4 July 2007
Lena Lakes Campout - Olympic National Forrest / Park
YSA Campout - Derek Rowley - Carley Lovejoy - Lisa Flowers - Jeff Smith - Dave - Justin - Katie - Stephanie - Flora



I (Derek Rowley) left Tacoma about noon on the 3rd driving toward Olympia then Shelton then Hoodsport. A few miles past Hoodsport is the turn-off for Lena Lakes Trail Head #810. I arrived there and started hiking about 2:15 p.m. The hike to the Lower Lena Lake is all uphill for about 3 miles. I reached the campsite at about 3:30 p.m. There are some 28 campsites, but really there are about 4 or 5 area's with each alowing room for about 4 to 6 tents. So really there are about 28 tent spots.
I left my stuff at the last campsite just on the other side of the lake (about 5 minutes past the first campsite). I droped off much of my stuff and headed for the Upper Lena Lake at about 4 p.m. Four more miles of uphill (even steeper) and I was there. At 6 p.m. I was taking pictures of a Youth Adventure Group. They were on day 2 or 3 of a 3 week Adventure.






I filtered some water then started hiking to what I thought was Mt. Lena. (I didn't have a map and didn't really care because the two peaks were very close in height.) I picked the wrong one and started hiking. At this point I was hiking mostly in snow, I had my ice axe but not crampons. I was able to make it part way up the peak I was hiking but turned around when it got too dangerous which was also when the sun set behind a nearby ridge.
At 7:30 p.m. or so I started back for Lower Lena Lake. I got back at about 10 p.m. (a little slower since I stopped to talk to that large group for a while).

I was a little worred that my friends decided not to come or had gotten lost driving since they still hadn't showed up. I waited at the lake lookout and they finally showed up at about 11 p.m.
We made a fire, cooked the tin foil dinners that Carley brought, then had smores. We went to bed at about 3 or so. Early in the morning a few of us were woken by Dave's daughter screeming "GET OUT" multiple times. Dave had carried his three year old daughter and they were sharing a sleeping bag. Everything was fine until he got kicked out of his own sleeping bag. Dave froze the rest of the morning.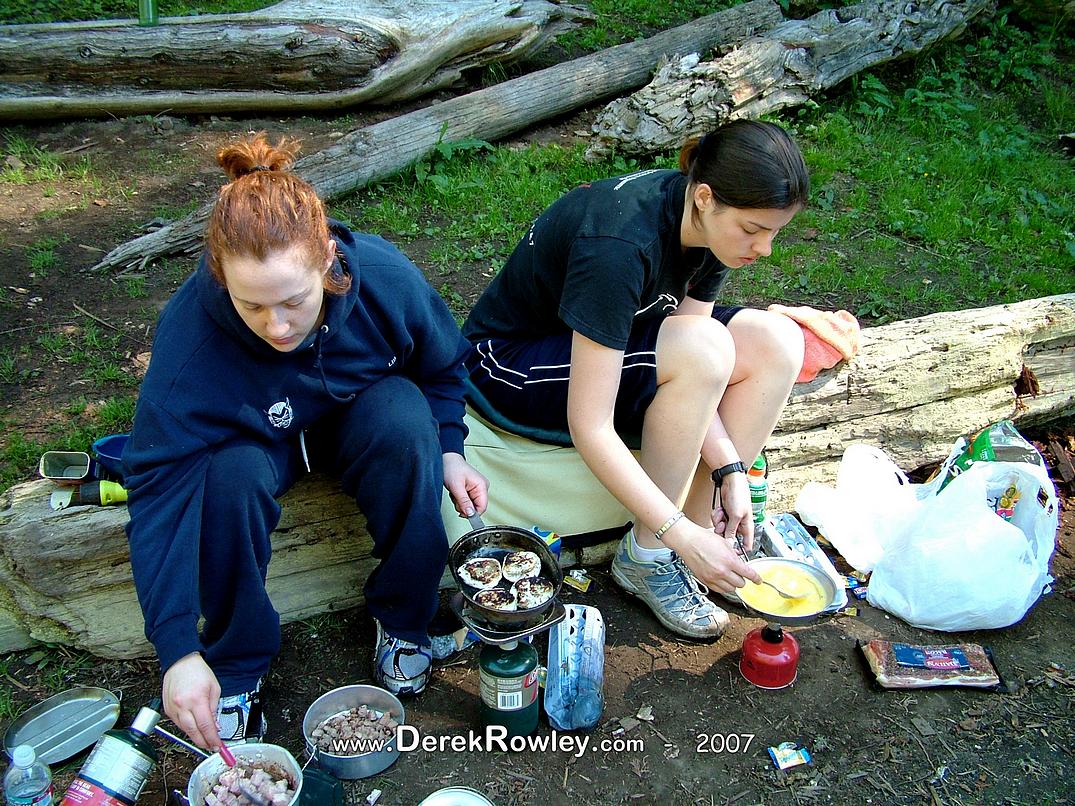 When the rest of us woke up, we ate breakfast, (Eggs and Spam, Bacon and Muffins).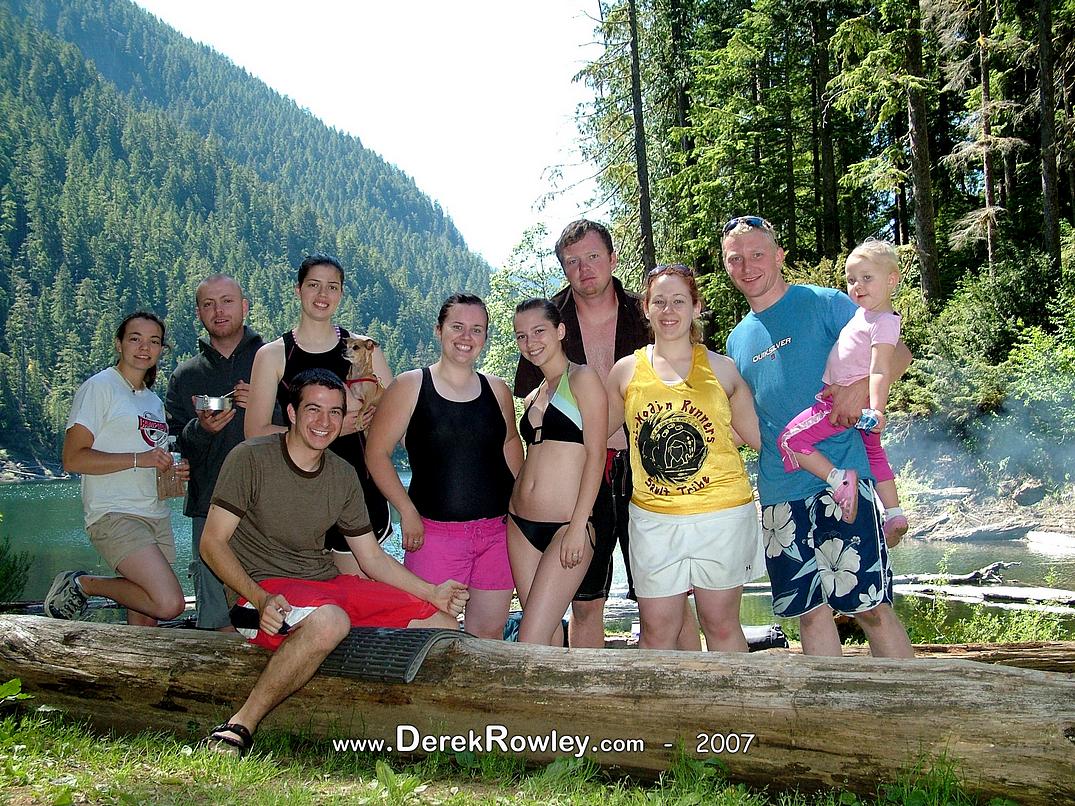 As Lisa and Dave started hiking back to the car some of us went swimming. It was cold, but not too cold. Carley and Katie acted out a scene from Pocahontas as they tried to get back to dry land without getting wet again.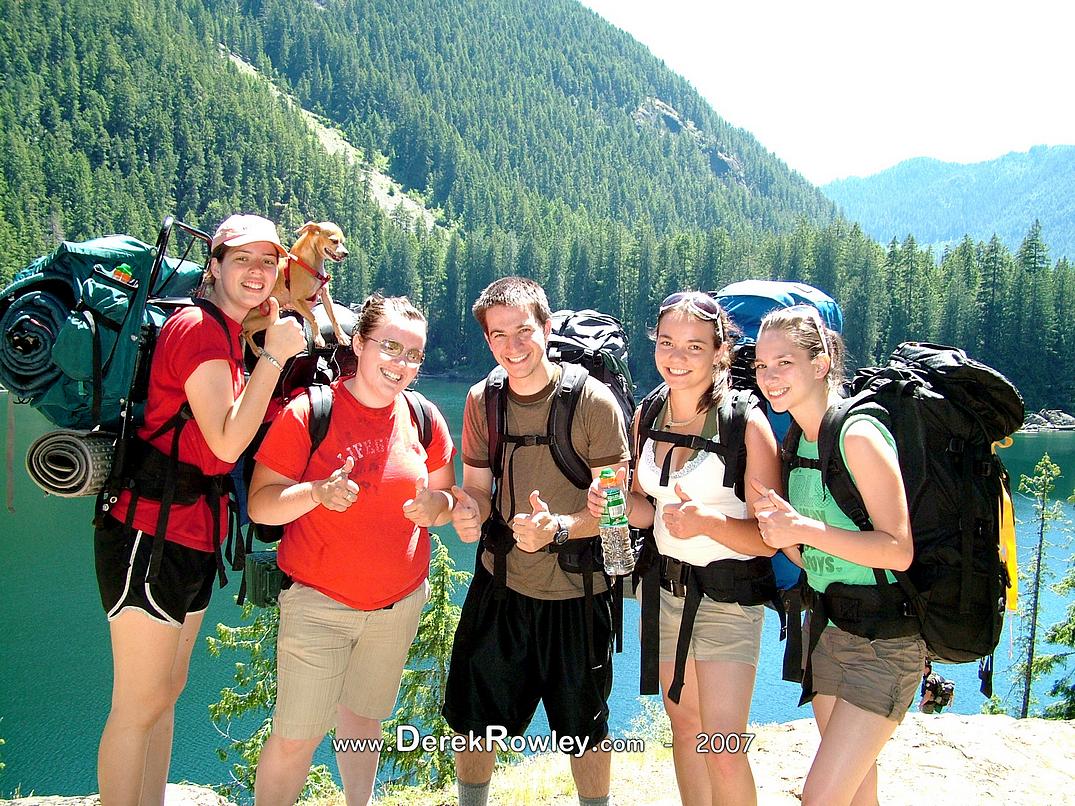 We left camp at 1 p.m. and got to the cars at about 2:40 p.m. We stopped in Hoodsport for ice cream and later for fireworks.